Hi everyone! It's that time of year again.........The Homeschool Post has announced their nominations for the homeschool blog awards.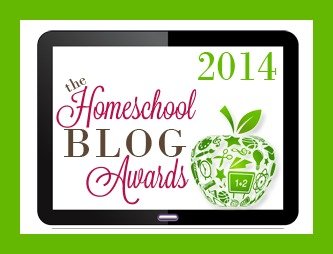 My dear sweet, friend Chris, from
Campfire and Cleats
, has nominated me for the best Nitty Gritty Homeschooler blog award. Thank you, Chris!!
So I am asking for your votes....... I would really appreciate them!
I know it's a busy time of year with Advent and Christmas but all you have to do is vote once a day. Voting opened on December 8th and closes on December 29th. Voting is easy.
Just click on the link, click on the dot near Mountain of Grace, and then click on vote. That's it....see easy peasy!
You can cast your vote for me here.........
Best Nitty Gritty Homeschooler Blog.
Please check out all the other categories.
Some other wonderful blogs and ladies have been nominated.
Here are a few of my favorites...they may even be a few of yours.
Chris @
Campfire and Cleats
nominated in THREE categories
Best Encourager
Best Homeschool Nature Blog
Best Photos
Lisa @
Home to 4 Kiddos
for
Best Homemaking/Recipes
Tracy @
A Slice of Smith Life
nominated in TWO categories
Best Homeschool Mom Blog
Best Variety Blog
Jennifer @
Catholic Inspired
for
Best Homeschool Mom Blog
Anne-Marie @
Our Life's Adventures
nominated in TWO categories
Best Homeschool Nature/Field Trip Blog
Best Homeschool Mom Blog
Brigit @
Designs By Brigit
for
Best Current Events
Monica @
Equipping Catholic Families
for
Best Crafts Blog
Allison @
Totus Tuus Family and Catholic Homeschooling
for
Best Blog Design
Catholic Mom
for
Best Group Blog
Till next time,
~Monique