Dig It! games is not your typical gaming studio. They are firm believers that digital games can have a positive influence on education. Games can provide critical thinking, independent learning, and encourage learning. The games use math, science, social studies, and language arts to make learning fun. Theey are interactive and really engage the players.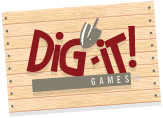 Dig It! games offers a variety of games. Mayan Mysteries, Roman Town, and Loot Pursuit: Pompeii are just a few of the games they offer. For this review, we received a single user access to Mayan Adventures. The game is geared for students in 5th-9th grade. The single player user will get over 9 hours of interactive learning while playing. The game can be played online or on an iPad. The content in the game has been verified by a REAL LIFE Mayan expert, named Robert J. Sharer. They even included an encyclopedia with over 450 entries.
When signing up for this review, I knew Michael would love playing this games. At least I hoped he would love it. Thankfully, my gut instinct was right. He really loved it!

What is Mayan Mysteries?
Mayan Mysteries is a fun, educational game that allows kids to explore the ancient world of the Mayan Empire. In the game, kids will help Professor Quinn and his team solve a mystery and search for the mythical city of Ich'aak. They get to become archaeologist! They will explore Mayan pyramids, learn about the Mayan calendar, and search for ancient artifacts. While playing the game, kids will explore ancient Mayan cities while they track down the mysterious Landrone!

How to Play~
First, each child becomes an archaeologist. They get to help Professor Quinn and his associates track down the mysterious Landrone who steals ancient artifacts. During their travels, they will investigates clues to solve the mystery. They will travel through 8 Mayan cities, solve over 25 challenging puzzles, and explore over 200 Mayan topics. Players will see beautiful Mayan graphics and listen to original Mayan music while they are being transported throughout the Mayan world.
Set up was extremely easy! I logged in and just clicked Launch Game. The game opens up in a new window and off you go. The first thing you see is the dashboard. This is where the kids can keep track of their progress.
They will see what level they are on. They can see how many artifacts they have found and what achievements they have earned.
Michael immediately liked the comic book style of the game. This was a big hit hit since, Michael is into comics right now with all the super heroes out there right now.
As Michael move through the game, he learned about the ancient Mayan culture. Some of the ways he learned about the Mayan empire was though map work.
He searched for clues, found ancient artifacts, played puzzles, and learned a lot about the Mayan people and their culture.
An added bonus for homeschooling families is that their are downloadable lessons to go along with the game.
Mayan Map
Ancient Artifacts
Mayan or Myth
Temple in Tikal
Mayan Number System
Maya Water system
These lessons are a great way to bring the game playing into the classroom, especially if you were studying the Mayan empire!

So What Did We Think of the Game~
Setting up your account was a breeze. The game was explained well and was easy for players to get going. Michael LOVED it. He asked to play it immediately after school was done. He has worked through it rather slowly. He is actually working through it still. We have been having some issues with our satellite internet. We've had quite a few days without internet or EXTREMELY slow service, so this has slowed down his progress.
The only issue I had with the game was I really had no idea about what Michael was doing and learning. I would ask and he would explain, but I know I was missing some of it. If I sat next to him and watched him work at it then of course I would know, but I took that time to work with Therese on her spelling. I was out of the loop. A detailed report sent to parents or a separate log-in for parents to check on their students progress would be a wonderful addition to this program. It would give parents a way to check up on their kids. I think this would be extremely important for families using this as a curriculum. We just used it as a fun, educational game so it wasn't too important for me to have. It would have been nice though.
Michael has already asked about the other games offered. I hope they come out with more games for online play. A few dealing with American history would be great!!! I know Michael would love one dealing with War World I or War World II. The games are a fun way for kids to learn more about history. Therese has even asked about it and she's no that big into online games.
It would be nice if the games were available for other tablets other that iPads. Not everyone has an iPad.

Find out more and follow them on social media!
Don't forget to stop by and see what they other ladies had to say.
Some of them reviewed the Roman Town.