Here to Help Learning offers.....
Multi Grade Level Instruction
Filmed Instruction
Scripted Lessons
Worksheets
Meaningful Projects
A Biblical Based Program
Reference Charts
Here to Help Learning introduces students to five different types of writing. Students will discover Narrative, Descriptive, Expository, Persuasive, and Poetry.
Here to Help learning offers two introductions of writing with 3 levels in each. For younger students, recommended for grades 1-3, they offer Paragraph Writing. In the Paragraph Writing Curriculum, there are 3 levels...Flight 1, Flight 2, and Flight 3. In this curriculum, students will learn how to build a solid paragraph. For older students with prior writing skills, recommended for grades 4th-6th+, they offer Essay Writing. Again in this writing curriculum, there are 3 levels...Flight 1, Flight 2, and Flight 3. This curriculum teaches students how to write a 4-5 paragraph essay.
Each Flight contains 32 lessons. This would give you 32 weeks of lessons, so a full years worth of curriculum.
At the end of the lessons, the students will have a writing portfolio from the years work.
The lessons are done 2 days a week. On the first day, the students will watch the online instruction video and complete the lesson.
On day 2, students will work on their independent writing assignment.
The online instruction is broken up into five parts.
Pre-Flight Checklist (2 minutes)
Flight Check-In (5 minutes)
Take-Off (15 minutes)
Full Throttle (30-40 minutes)
Flying Solo
We followed the recommended 2 days a week. The first day, the kids and I watch the video and go over the lesson.On the second day, the kids work on their assignment. The whole process is fairly easy to follow. We added this program to the English program we were already using. It was perfect. With it being only 2 days, it wasn't too time consuming, but it definitely added a whole new dimension to our English lessons. The lessons are filled with a lot of information. Various topics are introduced, but it is done in a way that it isn't too overwhelming for the students to grasp and understand. The kids have learned a lot about the whole writing process. For example, the kids have been introduced to metaphors, similes, alliteration, idioms, etc. My kids have really enjoyed the writing warm-ups.
The writing warm-up is a fun, quick paced writing exercise. The kids get the opportunity to look at a funny picture and then write a short paragraph about the picture. They are encouraged to add one of the writing topics in the paragraph, like adding a simile. I have noticed both of my kids writing abilities increase over just the past few weeks. They are writing clearer sentences and are able to come up with short funny stories in a quicker time period. I have enjoyed seeing what stories they each come up with to go along with the picture prompt.
Everything you need to know about the program is included. The have a whole section on the site with various resources to help students and teachers with the program. They haven't missed a thing!
You can even print all the information out if you want to.
I created a binder for myself to hold all the information I would need to teach this program.
I then created a binder for Michael and Therese to hold their papers. It makes it very easy to keep track of all their papers. All we needed was a binder, the printed lesson and worksheets, loose leaf paper, dividers, and pencils.
We have enjoyed the writing part of the curriculum, especially the writing warm-up. The picture prompts are often funny and provide the kids with a entertaining story. I have enjoyed seeing their creative side come out!
They have become more confident with their writing and their stories seem more complete now than when we first started.The writing steps introduced have made my children stronger writers and we are not yet through the whole program. I love how the process is taught. It's very detailed and provides students with the knowledge they will need to become strong writers. Simple but effective lessons are what makes this program great.
My kids have not enjoyed the videos that much. They feel the videos are a little to juvenile for older students. My kids are in the middle school years, so they are on the older end of the recommended age levels. Mrs. Mora is very animated when she talks and leads the lessons. She is full of energy! She gets the kids excited and motivated to get working. My kids are more low key. They prefer more quiet and reserved ways of learning. They just prefer a different style of instruction. They have never enjoyed overly animated or flashy video learning games, movies, or etc. We rarely attend the puppet show at our local library when they were little, because it was too loud and way to hectic. All these years living on our quiet mountain top has shaped their preferences. No big city with bright lights here. I'm sure Mrs. Mora can motivate a lot of kids. I know quite a few kids that would love theses lessons. My kids just felt it was a little too much for them. So there were days we watched a little bit of the video and turned it off. I would then lead the lesson with the materials provided.
My one complaint about the program is there is a lot of printing. The pages used a lot of ink in my opinion. They have lots of gray shaded blocks on them. I would recommend ordering the student workbooks to go along with this program. I feel it would be cheaper in the long run. It would save my ink and wear and tear on my printer.
For my kids, I would love to see a kit that only sells the teacher's book, the teacher's instructions, and the student book. I love the program and what it teaches, but I don't think I would purchase it because they don't enjoy watching the videos. I feel like I would be paying for features we wouldn't use.
I would recommend this writing program to anyone that has a struggling writer or a child who just doesn't enjoy writing. This program will make a huge difference in how they write. They will become more efficient and more confident in their skills. If they are more confident, the struggle to write will disappear!
Want to learn more about Her to Help Learning? Be sure to stop by and visit there website.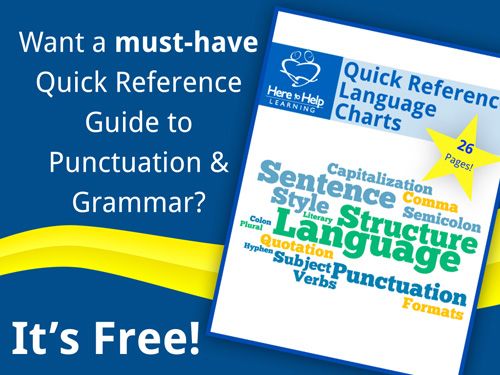 Check them out on social media
Don't forget to stop by the Schoolhouse Review Crew and read what the others have to say about Here to Help Learning!


Make sure you don't miss a thing! Subscribe to Mountain of Grace Homeschooling below and get the post delivered directly to your inbox!