ArtAchieve is an online homeschool art program for students and parents of all ages. They offer five different levels to work through. If you have no art experience at all or are very limited in your artistic abilities, they recommend starting with level 1. You will then work your way through the various levels as your confidence and artistic abilities improve. You can buy individual lessons for $4.00 to $11.00. The higher the level the higher the cost. You can buy the entire Level for a discounted price. For example, Level 1 lessons were $4 a lesson or you can buy all the lessons for $27. This save you a dollar off each lessons. You can even buy the entire art curriculum lessons for $255. The levels are good for an entire year. Not sure what Level to buy or if your kids will like the program, ArtAchieve offers free lessons to try it out!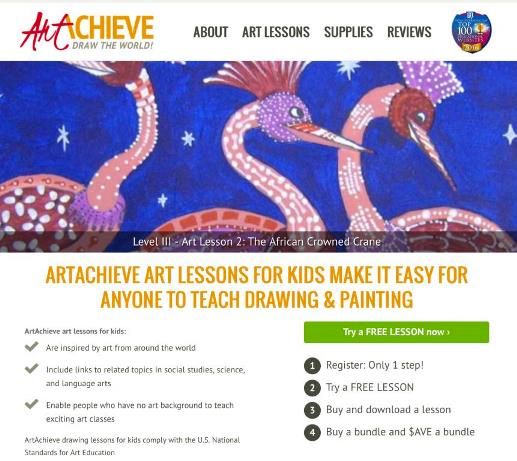 The kids and I worked through Level 1. Level 1 contains 13 lessons.
Lesson 1~ Simple Lines (Free)
Lesson 1B~ Shading Objects that have Corners (Free)
Lesson 1C~ Shading Round Objects (Free)
Lesson 2~ The Czech Cat (Free)
Lesson 3~ The Hungarian Insects
Lesson 4~ The Haitian Gecko
Lesson 5~ The Dragonfly from Ecuador
Lesson 6~ The Chinese Dragon
Lesson 7~ The Owl from Bali
Lesson 8~ The Kitenge Tree Wall Hanging from Tanzania
Lesson 9~ The Plate from Nepal
Lesson 10~ Four Suns with Four Faces
Lesson 11~ The Sheep from Wales
The lessons provide parents and teachers with a power point version of the lesson, a video version of the lesson, and a warm-up lesson. Some of the lesson will have printable pages to go along with the lesson.
The lesson vary in length depending on the art lesson being taught. I would say most are about an hour long. My kids favorite lessons so far has been Lesson 4: The Haitian Gecko and Lesson 10: The Sun with Four Faces.
Each lesson is done exceptional well. The instructor is calm and encouraging. He goes through each step and explains different techniques for the student. he video can be paused at various points so the students can work on their art work.
Under the art lessons tab, parents are given a variety of additional elements to add to their art lesson. You could easily make it into a unit study. For example, in the Haitian Gecko lesson, students are encouraged to learn about Haiti (geography), Geckos (science), various books are encouraged for additional learning (literature), and suggestions for an artist study.
What we thought of ArtAchieve?
ArtAchieve is amazing or as my kids joked IT'S EPIC! Both Michael and Therese enjoyed this program. They both agreed it has been their favorite art curriculum so far. The projects are taught well, easy to understand, and the projects are a lot fun to do. I liked having the option of a power point lesson or a video lesson. A video lesson allows older students to work on the lessons by themselves. This is perfect for a busy mom.
The additional lesson ideas for a unit study are great. My kids even suggested ordering the next few levels and working through them next summer. It would help pass the boring days of summer.
I loved how they recommended the use of music during the art lessons. When I studied art in high school and college, many of my teachers played music while we created our master pieces. Over the years, as my kids worked on their art lessons, I often played classical music to help their minds stayed focused on their work. Playing music can be a little tricky if you are watching the video lesson though.
The supply list is great. This was extremely helpful. I love that I could print it out, check off what we already had, and then take the list with me when I went shopping. All the supplies were extremely easy to find at our local stores.
I would love to see the program on DVD's. It would be helpful for those of us with limited internet (or folks with internet that tends to go out). They could offer the videos on a DVD and the printable worksheets on a CD for the computer.
Want to learn more about ArtAchieve? Visit their social media pages!
Facebook
Twitter
Pinterest
Google+
Instagram
The Schoolhouse Review Crew were reviewing the Level 1, Level 2, and Level 3. If you want to see what other great lessons ArtAchieve has to offer stop by to see what they have to share.

Make sure you don't miss a thing! Subscribe to Mountain of Grace Homeschooling below and get the post delivered directly to your inbox!