Over the past few weeks, Michael has been using
Writers in Residence
from
Apologia Educational Ministries
to help improve his writing skills. Writing has never been a fun thing in our house. Michael is very hands on and loves science, but dislikes writing a lot. Let's just say it's his least favorite subject to do.

For the past year, I have been searching for a writing curriculum to try that would help my children write better. Not only did I want them to learn how to write well but I wanted them to enjoy writing. I was hoping to find a writing curriculum that they would love doing and dare I say do it willingly and eagerly.
For this review, we received the Writers in Residence Volume 1 Set.
The two book set which included the All in One Student Text and Workbook
and the Answer Key Book.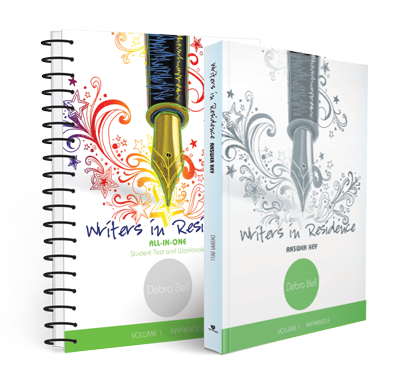 So What is Writers in Residence?
Writing in Residence is a new homeschool writing curriculum from Debra Bell. Debra Bell is well known author. She's written the Ultimate Guide to Homeschooling, The Ultimate Guide to Homeschooling Teens, and the Ultimate Homeschool Planners. With the Writing in Residence, Mrs. Bell has created a wonderful writing based language arts curriculum. Writing in Residence (WIR) uses engaging writing assignments to help students learn how to write well. While completing these assignments, students will learn about proper sentence structure, parts of speech, and proper use of capitalization and punctuation. By learning these important skills, students will be able to write amazing stories, essays, and papers.
Writing in Residence is geared for students in grades 4 through grades 8. The writing program can be used with multiple ages. It's easy to adapt to various levels of learning with just a few modifications in your expectations for the students. The writing curriculum is written to the student in a fun, creative way. The tone of the lessons are engaging and easy to understand. The lessons are broken up into 32 lessons. The weekly lessons are divided up into 4 days a week. The detailed lesson plans makes planning a snap. I love the suggested daily schedule. Less work for all those mamas planning their homeschool lessons. The book is set up to work with a 32 week school year.
How Did We Use Writers in Residence?
Michael used the writing curriculum 4 days a week. This was perfect since we do a a four day a week schedule for most of our subjects. The student book has 6 units. The units are broken up into modules. The student text has 24 modules. Each unit has 4 modules. The book cycles through 4 repeated types of writing tasks.
I Remember
I Imagine
I Investigate
I Think
By learning these different writings styles, students will learn how to write a personal narrative, creative writings, a research paper, and an opinion writing piece.
Michael started with Unit 1. Unit 1 starts the students off with learning how to write a personal narrative. In this lesson, Michael learned how to write a story about his childhood. He was asked to focus on his ideas and how to find ideas to write about, organization, word choices, conventions (periods, capitalization, etc.).This chapter also had a section all about verbs and how to use them. The students write a first draft and work on correcting it until they have their final paper. I love how the book has a checklist for the students to use. This check list helps the students improve. For each section checked off, parents will give the students points.
6~ Exemplary in quality and effort
5~ Exemplary in quality or effort
4~Acceptable in quality and effort
3~ Acceptable in quality or effort
2~ needs improvement in quality and effort
1~ incomplete
This allows the student to see what they have done well and what they need to work on.
Michael work through the first two units and will continue to work through the books. We have followed the suggested schedule and it has worked out well for him. They pace is good for him.
He has been able to understand the lessons and has been able to work through the book with very little help from me. This book is a great way to encourage students to become independent learners.
What Did We Think of Writers of Residence?
We have enjoyed this writing curriculum! When the books fist arrived in the mail, I was shocked on how thick the student book was. After looking over the book, I quickly realized why the student book was so think. It's the student's text book and workbook all in one! I like how they are included together, but I am worried if the book will stay together through out the year. Spiral books and their pages tend to get beat up, the pages get loose, and then fall out. I guess if that happens, we can always whole bunch the pages and place them in a large binder.
I like how they teach the students how to write different styles of papers. I especially like how they throw in grammar, punctuation, etc. into each Unit. I like Writing in Residence incorporates all that into one book.
Michael liked it well enough. I won't lie and say he loved it. I honestly don't believe he would enjoy an writing curriculum. He did say the layout was easy to understand and the lesson weren't too long. He didn't find them overwhelming. We will continue on with the program. I think I'll even add Therese to it. I just want to get them writing and this program is well laid out. They can follow along in the book and become great writers.
Find Apologia on Social Media
Want to learn more about Writers in Residence?
Stop by and see what the other members of the crew had to say.

Please Note~ This post may contain affiliate links. If you choose to click on a link, add it to your cart and complete your purchase, I will receive a small percentage. We are very grateful for this additional source of income. Thank you.
Make sure you don't miss a thing! Subscribe to Mountain of Grace Homeschooling below and get the post delivered directly to your inbox!