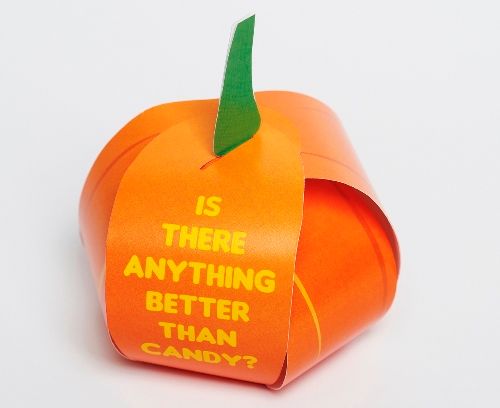 For this review, I received one pack of the Is There Anything Better Than Candy Box-Tract. Each pack contains 20 unassembled pumpkins. Once the pumpkins are assembled they'll measure 3 inches across and 2 inches tall. The pumpkins were designed to hand out more than just candy this Halloween. When each pumpkin is opened 6 messages about God are revealed!
They have several different options when buying the pumpkins. If you buy 1-10 packs, they are $15.95 per pack. If you buy 11-20, the packs are $14.95 per pack. If you need to buy more than 20 packs (21+), each pack is $13.95.
Inside each pumpkin, the tabs open up to reveal a message about God, His love for us, and his willingness to forgive us no matter what we do if we only ask for His forgiveness.
The perforated pumpkins are easy to pop out. I do recommend not allowing little children to do this part. They may find it a little difficult and may tear the sides of the pumpkin. Of course if the do tear a section, it can easily be taped back together. Older kids should be able to complete this task very easily.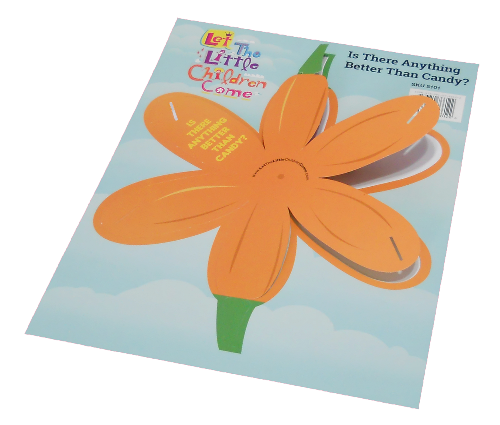 The kids and I found folding up the pumpkins to be fairly simple. Michael and Therese are both teens and they had no problems at all. The paper is like card stock, so the pumpkins seem durable. I think handing them out at a party should be fine. I do wonder if the pumpkins will crumple or bend when handed out on Halloween. I'm thinking they may get crushed in children's Halloween bags as they collect candy through out the night.
After looking over the pumpkins, I decided to use the pumpkins for our All Saints Day Party with my first graders this year. Every year, around All Saints Day, we have a party in my religious education class. My plan this year is to fill the pumpkins with some candy, a St. Isidore (Patron saint of farmers) prayer card, and a few other goodies to fill the box. I'm thinking I may use candy corn and pumpkins in the boxes. They'd work well with the pumpkin and St. Isidore theme. I did add two little lines to the inside of the pumpkins to reflect our Catholic faith. These little pumpkins will be a cute addition to our All Saints Day party. If you don't celebrate All saints Day, don't worry there are plenty of other ways to use these little pumpkins.
Ideas for How to Use the Pumpkin Candy Boxes
Hand them out on Halloween
Hand them out at a trunk and treat event
Hand them out at Halloween school party
Hand them out at a homschool Halloween party
Hand them out at a Fall Harvest party
Hand them out at an All Saints Day Party
Hand them out at a Thanksgiving Day Party
Give them to a teacher at church to use with little kids
Fill them up and hand them out at a local nursing home
Fill them up and deliver them to a homeless shelter, women's shelter, or foster care organization
Fill them up for the children in your family for Halloween or Thanksgiving
Fill them out and take them to a local food bank or soup kitchen
What ever you choose to do with them will bring children a special treat filled with goodies and a message about God.
Social Media Links
Facebook: https://www.facebook.com/LetTheLittleChildrenCome/
Stop by and see how the other review crew members used these fun little pumpkins!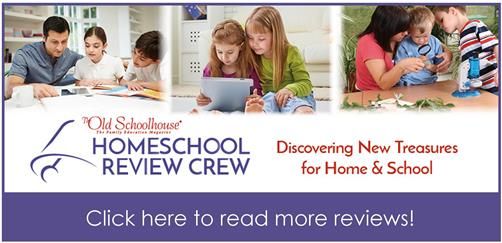 Till Next Time,
Monique