Memoria Press is a leader in the classical Christian educational materials for homeschoolers. All of their materials have an emphasis on liberal arts and great works of literature. Memoria Press offers a wide range of materials. They have courses from Pre-Kindergarten to Twelfth grade. Students can learn about the arts, music, history, science, Latin, Greek, Logic, Poetry, etc. They offer a well rounded curriculum for parents looking for a classical education for their children.
Want to learn more about a classical approach to education?
You can read all about on their site.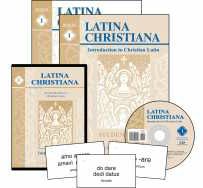 For participating in this review , we received the teacher's book, the student book, pronunciation CD, instructional DVD, and flashcards. This is the second book we have used from Memoria Press for Latin. This past year we used Prima Latina to go along with our Latin studies for CCM. We were very excited to be part of this review since this was the next book we would be going into.
Latina Christiana is an introduction to Christian Latin. It is geared for students in grades 3 and up. It was designed to be a beginning course in Latin. The nice thing about Latina Christiana is that it was written for the average parent who has never taken Latin. I was lucky enough to take 1 year of Latin in high school and of course we have learned various parts of Mass in Latin. The kids have learned a variety of Catholic prayers in Latin. I love how by using Latina Christiana the kids learn the meaning of Latin words and can fully understand what they are saying when they pray like the Pater Noster or Salve Regina.
After we received the set in the mail, I immediately flipped through it to see if the set up was different from Prima Latina. I was pleased to see the lay out was basically the same. No confusion for the kids or me!
The teacher's manual is extremely thorough. The first chapter is an introduction to the program. The goals for the students are clearly outlined. They provide ideas for general teaching, which is perfect for first time Latin teachers. Weekly lesson plans are included. It provides an optional history section and maps that go along with the book from Memoria Press called Famous Men of Rome. Great books if you are learning about the Roman Empire. An answer key is included for the lessons in the student book, so their is no need to worry that you will not know the answers. Tests and quizzes are in the back of the book. They are reproducible. The last section of the book includes Latin prayers and songs.
The student book is broken up into 25 lessons and 5 review lessons. The students are introduced to 10 vocabulary words in each lesson. The are given a practical Latin saying, like Ora et labora, which means Pray and Work.
Each lesson goes over grammar forms. The lessons also include exercises for the vocabulary and grammar learned. These exercises help reinforce what the students have been introduced to. The students will work on translating, grammar forms, and derivatives.
The review lessons review 5 lessons for a total of 50 vocabulary words and 5 Latin sayings. The will go over the grammar that was learned too. The review lessons are a great way to see what information the students have retained (or payed attention to).
The pronunciation CD is a must, especially if do not know Latin. It provides the correct pronunciation for the Latin saying and vocabulary words. You can listen to the Latin prayers and songs on the CD too.
The instructional DVD was new to us. We did not purchase this for Prima Latina. The DVD set contains 5 discs with 18 hours of play. Each lesson last about 35 minutes. The DVD lesson covers the grammar and vocabulary presented in each workbook lesson. It uses on screen notes, drawings, diagrams, and examples. It is a wonderful tool to use. I liked how it allowed the kids to work on their own if I needed to be doing something else.
The flash cards are essential! There is no better way to learn the vocabulary than by going over the Latin flashcards. We use them EVERYDAY! This past year I made my own for Prima Latina. Purchasing the flash cards is definitely easier. I have more time to work on other things since they are already done for me!
Well, since we were already familiar with the program it was very easy to get started. We do Latin every day of the week. Monday through Friday we work on prayers that we are learning with a different program. We did Latina Christiana 4 days a week.
Tuesday~ Watch DVD and go over lesson. Use flashcards to learn the words.
Wednesday~ Listen to CD and review flashcards.
Thursday~ Listen to CD, do lesson exercises in student workbook, and review flashcards.
Friday~ Listen to CD and review flashcards.
As we progressed through the lesson, we added on to the flashcard pile. Each week, we would review all the vocabulary words. I found this very helpful when it came time for review lessons and tests.
As for the prayers, we prayed the Pater Noster (Our Father) every morning at the beginning of of day. This was review for us, since we learned it 2 years ago with our Catholic co-op we belonged to. At lunch, we would pray the Table Blessing in Latin. It was easy for us to have the prayers in our daily life.
I have always wanted my kids to learn Latin. I am a strong believer that Latin helps with our grammar and language skills.
I have found the Latin courses from Memoria Press to be easy to use. They provide step by step instructions that are easy to follow. The lessons are extremely well done.
I am looking forward to our progression through their Latin series.

You can find out more about Memoria Press on their Facebook Page or their Twitter Page.
Till next time,
~Monique