Please Note~ This post may contain affiliate links. If you choose to click on a link, add it to your cart and complete your purchase, I will receive a small percentage. We are very grateful for this additional source of income. Thank you.
Over the past few weeks, Therese has been working through a new homeschool reading program from
Apologia Educational Ministries
called
Readers in Residence Volume 1 (Sleuth)
. Readers in Residence Volume 1 is a new reading program created by Debra Bell.

Apologia Educational Ministries is a well trusted homeschooling curriculum company. I'm sure you've heard of the. They offer students and parents a variety of curriculum. Students can learn science, geography, history, language arts, bible, and worldviews. Families can also find wonderful resources like planners and homeschool helpers.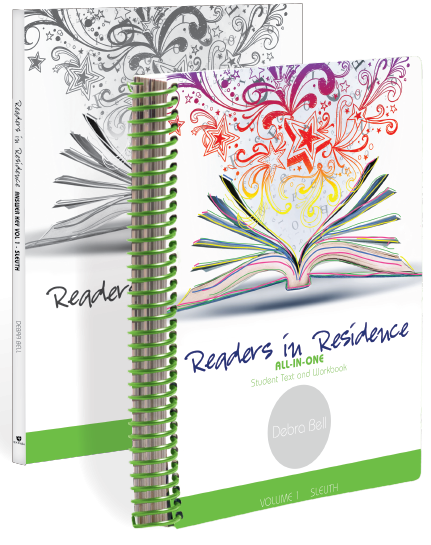 For this review, we received the Readers in Residence Volume 1 (Sleuth) full set.
The full set comes with 2 books.
All in One Student Text & Workbook
Teacher Answer Key
Readers in Residence Volume 1 is geared for students in 4th grade and up. The program was created to help students process and understand what they are reading. Readers in Residence (RIR) is a reading comprehension, literature, and vocabulary curriculum all wrapped into one. RIR exposes students to great literature! The program can be used with Writing in Residence. If used with Writers in Residence, students will have a a full years worth of language arts curriculum. The nice thing about both programs is they can be used alone too!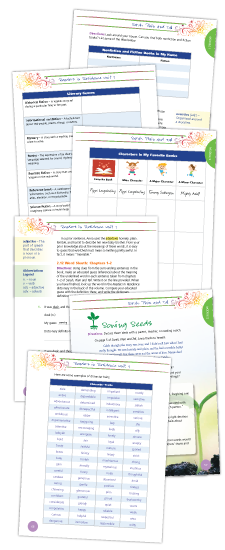 Readers in Residence will introduce students to the following topics while having them read great literature.
How to Understand the Arthur's Thoughts, Choices, and Intentions
How to Recognize Literary Elements
Learn and Understand Figures of Speech
Differences Between Fiction and Non-Fiction
How to Bring Previous Experiences and Prior Knowledge into their Understanding of Stories
Learn New Vocabulary
How to Figure Out Context of Unknown Words
Learn How Writers Use Punctuation, Capitalization, and Grammar to Achieve Understanding
The book is broken up into 6 units. Each unit has 1 to 4 chapters. The units cover various literary topics that the student will learn about. There are three books used throughout this program....Sarah, Plain and Tall, Charlotte's Web, and Because of Winn Dixie. These books will need to be purchased separately to be used along with the student text and workbook.
What We Thought of Readers in Residence Volume 1?
So far, we have enjoyed the program. We've completed Sarah, Plain and Tall and are currently working on Charlotte's Web. A few years ago, Therese was having difficulty with reading comprehension and struggled with her reading abilities. Readers in Residence Volume 1 has been a great way to help further her knowledge of comprehension and get her to dig a little deeper into the book she is reading. She's learning to understand the plot and the meanings hidden in the stories. I love how the program encourages students to strengthen their literary skills. RIR brings great literature to life for the students. I love how the literary topics introduced are taught.They are introduced in way that makes the information easy for the student to understand. It allows the student to take that knowledge and apply it to the book they are reading, and hopefully apply it to future books they will read. When students have the knowledge and want to read great books, the world is limitless.
Therese has enjoyed the books used in this program tremendously. She's already read Charlotte's Web before but is always willing to reread it. She is looking forward to reading Because of Winn Dixie. I have enjoyed reading the books along with her. It allows us to discuss the books more thoroughly.
I love that the student text and workbook are all in one! It makes it easier to keep rack for the book. No need to search for two different books.
It is recommended to use the program as a book club with friends. We didn't do that. We did an online book club with fellow reviewers, but sadly we have not participated yet. We have just been too busy with everything else. Therese and I have discussed the books together. I can see how having a book club could help students grow in their understanding, plus it would be fun to engage in the social events suggested in the book. With Sarah, Plain and Tall, a themed party is suggested. Wild flowers used as decorations was just one idea. Since it was winter, we didn't have any to use.
This would be a wonderful program to use in a homeschool co-op. I think it would be a fantastic educational class filled with fun hands on activities!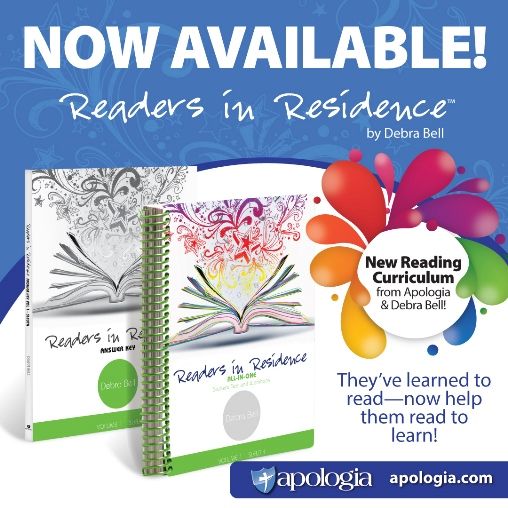 Find out more about Readers in Residence Volume 1!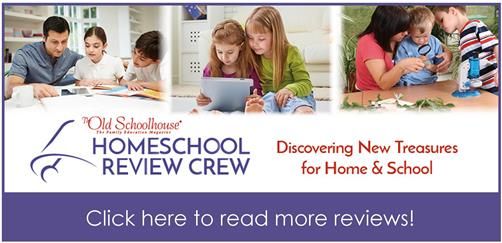 Till Next Time,
Monique
Make sure you don't miss a thing! Subscribe to Mountain of Grace Homeschooling below and get the post delivered directly to your inbox!