Please Note~ This post may contain affiliate links. If you choose to click on a link, add it to your cart and complete your purchase, I will receive a small percentage. We are very grateful for this additional source of income. Thank you.
Over the past few weeks, Michael has been working through the
Gr. 7 Lightening Lit Set
from
Hewitt Homeschooling.
I was beyond excited when we were chosen for this very in depth writing program. Michael, unfortunately, was not as thrilled. His lack of eagerness to write is one of the main reasons I wanted to review this writing curriculum.

Hewitt Homechooling is company that serves students in Kindergarten through High school. They offer 3 main items for students and their families: services (online curriculum, grading, etc.), testing, and curriculum programs. For this review, we received the Grade 7 Lightening Lit Set. Our set included the 2nd Edition Student Guide, Student Workbook, Teacher's Guide, and Stories and Poems for Extremely Intelligent Children.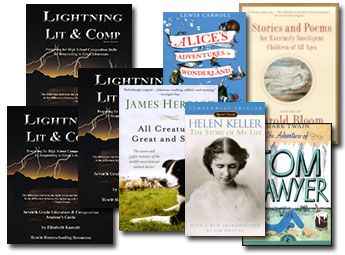 The full Grade 7 Lightening Lit Set includes the Student Guide, Student workbook, Teacher's Guide, Stories and Poems for Intelligent Children, and the 4 books needed for the program The Adventures of Tom Sawyer, Alice's Adventures in Wonderland, All Creatures Great and Small, and Helen Keller The Story of My Life. The full set retails for $108.80.
Since we didn't receive the additional 4 literature books, I purchased the one book we didn't already have and searched the shelves for the books we did have.
Along with the writing curriculum program, we were lucky enough to receive the paper evaluation service that Hewitt Homeschooling provides. This service generally costs about $250 a year. Throughout the year, the teachers at Hewitt Homeschooling will review and offer feedback on 24 of your student's papers. We didn't receive a full years service, but we have been given the opportunity to send in 4 papers. I prayed we would be chosen for this special service and we were. I really wanted Michael to get some feedback from someone else about his papers. Sometimes it helps to have an outside voice share some advice (or back up what mom has been saying along).
So What is Grade 7 Lightening Lit & Comp?
Well, it's a writing curriculum with so much more! The Lightening Lit & Comp program strives to prepare students for high school. It helps students work on their reading and composition skills while using great literature. The goal of this writing program is to expose students to great literature, increase their understanding of the literature, enhance their own writing skills, learn about different authors, time periods, and cultures, and so much more. They want the students to do all this, but have fun while doing it. Who doesn't learn better when they are actually enjoying what they are working on?
The students will work through the student guide book and the student workbook. The books are broken up into eight chapters. The various chapters focus on a literary lesson and a certain book. The chapters are further broken up into lessons. Each chapter has between 8-12 lessons.
The student guide contains an introduction, which talks about the author, the chosen literature, and the literary lesson for that chapter is introduced. Following the introduction, a vocabulary list is presented for the student. The chapter then continues with comprehension questions for the student to answer. These questions are great way to make sure you student is understanding what they are reading. Following the questions, students will then learn about the literary lesson. Here a literary topic (plot, poetry, rhyme, creativity) is discussed in detail. The students learn all about how to work this into their own writing. This section often has pictures and diagrams to help explain the topic. The last part of the chapter includes a mini-lesson ( a small topic is discussed) and the writing exercises the students can work on.
More than one writing lesson is presented, so students can choose one to work on or they can work on all of them. The writing lesson should only be completed once all the activity pages in the workbook for that chapter have been completed.
The student workbook follows the guide book. In the workbook, students will work on exercises that help reinforce the literary lesson being taught. Multiple choice, question & answer, fill in graphs, writing exercises, and other forms of writing are presented. It's not all boring though. The workbook also has fun pages too! Crossword puzzles, word searches, and drawing activities are included too.
The teacher guide is just that a guide. It has a wonderful section explaining how to use the program, why you should this program, and they've even included a schedule. This makes it easy for parents. No breaking down the lessons. It's all done for you. I do wish they had included a schedule in the student book. If the students had a copy in their own guide book, they could easily know what they were supposed to be working on. I made a copy for Michael to have, so he could have it to refer to. My goal this year is too encourage more independent learning for him.
It has all the answers to the comprehension questions and activity pages in the student workbook. It offers suggestions for parents on how to help their students understand the literary lesson and mini-lesson presented in the chapter.
What Did We Think of Grade 7 Lightening Lit Set and the Paper Evaluation Service?
After being chosen for this review, I have to admit I got a little nervous. I was afraid Michael would stress out. Was it going to be too hard? I wanted this to be a pleasant experience. I didn't want to have to do battle everyday for him to write a little. I wanted him to enjoy this writing program and learn some new writing techniques and rules. I wanted his writing skills to improve so he could grow in his writing abilities and build his confidence. He doubts himself when he writes a paper. Over the past year, the kids worked on papers and Michael struggled getting them done. When he did complete them, they were filled with lots of sound information. He just lacked in his writing skills. He hates to proofread! I was thrilled when Michael (his teacher at Hewitt Homeschooling) clearly pointed out that he needs to proofread! It felt like a win for this mama.
Michael, from Hewitt Homeschooling, has been wonderful. He has been very friendly and extremely helpful. He sent an introduction email to us. His email put me at ease and I was happy to know that he was there to help us. If we had any questions, all we had to to was ask.
So far, we have turned in one paper. We are getting close to sending in our second paper. The whole process has been rather simple. My Michael just types the paper up in Word and then I email it for him since he doesn't have an email address yet. Once we sent the paper off, it was about a week and half before we received it back with corrections and comments. This was shorter than the 2 week turn around we were told. After looking over his corrected paper, Michael admitted that he could have caught a good bit of the mistakes if he would have reread his paper. Proof reading is important! I loved the feedback he received, Michael, our evaluator, offered positive feedback too. He pointed out parts that were strong and well written, while pointing out areas in the paper that could be clarified and made into stronger points. I felt he made a positive impact on Michael's writing experience. Over, the next few weeks, we will send in the remaining 3 papers. I am hoping I will see a difference in Michael's writing abilities and his confidence.
Here are Michael's Thoughts about the Program...
He thought the program was very good. In fact, he stated this was the best writing program he's done so far. The program offers great stories! It's not boring. He likes the variety of writing exercises.
He'd give it five stars!
*****
This is a HUGE success for us!
I think I'll be looking into the Grade 8 Lightening Lit Set for him for next year!
Be sure to stop by to see the other fantastic programs Hewitt Homeschooling has to offer!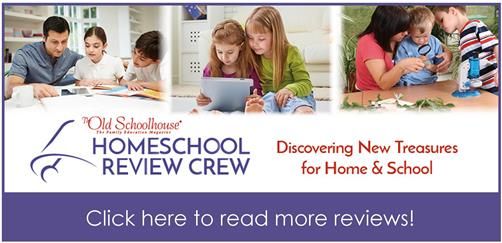 Till Next Time,
Monique